ISP – Support – Email – Windows Live Mail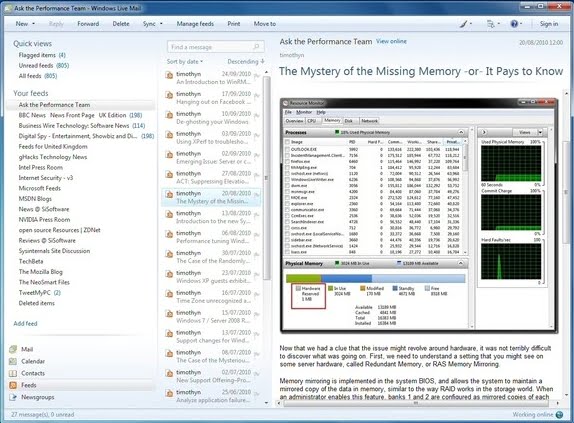 The naming of Microsoft email products is confusing.  If you'd like to understand better, see 'Naming Confusion Reigns!' below. 
Windows Live Mail
is part of Windows Live Essentials.  It is the latest version of Microsoft's free email package which, in previous lives, was known first as
Outlook Express
and then as
Windows Mail
.
Setup
Compared to some other email software, which seems to do all the setup for you, Windows Live Mail is comparatively hard work.  You need to enter:
Email server names
Port numbers
Authentication details
Importing emails from another email package is not quite as easy as it might be either unless you want to import from
Outlook Express
,
Windows Mail
or another
Windows Live Mail
installation.
Features
The software should not be dismissed as a toy just because it's free.  It's got many very good features and has a clean and uncluttered interface.  Features include:
POP3 support
IMAP support
Junk Mail filter
In-line spell checking
Separate inbox folders for each POP3 account
Support for emailing picture files in emails (with photo correction and border effects)
Calendar (very good)
Newsgroup reader
Emoticons
Multi-line message lists
RSS feed support – with ability to reply and also to aggregate multiple feeds into a single folder
Full integration with:

Gmail
Yahoo! Mail Plus
Live Hotmail
Live Messenger
Live Contacts
Live Calendar
This is an impressive list for any package, let alone a free one.  The more of the features you use, or might use, the more highly Windows Live Mail will score with you.  It is definitely worthy of consideration, but, if you are in any way worried about the setup and configuration, you would probably do well to get a friend to help you install it!
Limitations
There are some limitations with Windows Live Mail as follows:
No single email can be larger than 9.8GB – that is the total size including the message and all attachments
You cannot have more than 200 attachments to a single email
No single attachment can be bigger than 50MB
Naming Confusion reigns!
Microsoft email offerings, and the naming of them, are very confusing.  It used to be simple to understand, and it is still but the naming part is tricky.
Originally, there were three types of Microsoft email.
Outlook Express was a free email package that ran standalone on PCs.
Outlook was (and is) a paid-for email package that ran/runs on PCs and mobile devices.
Hotmail was a web-based type of email.
Today (August 2013) these have changed to:
Windows Live Mail
Outlook (name hasn't changed but there are numerous updated versions)
Outlook.com – the new name for Hotmail.
That's the easy bit.  Do NOT be confused by the names Windows Live Hotmail and Windows Mail and Windows Live Mail.  Windows Live Hotmail was one of the names that Hotmail had before it became Outlook.com.  Windows Mail was the name given to the Outlook Express replacement that was included in Windows Vista and which has now been replaced by Windows Live Mail.
Windows Live Mail settings for Net2Air
Coming soon…