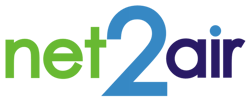 Welcome to our new Net2Air website!
We have had to relaunch the website because we have so many new and exciting things going on. Net2Air has always offered:
Conventional web and email hosting
Internet networking consultancy
Over the past year or so we've added to our offering with:
Cloud services
Data analysis
Remote data monitoring
Satellite connectivity
And now we're delighted to announce that we are offering all new wireless broadband - AirBand.
And there's more to come! We are adding new services regularly as our business grows, so if you don't see something that you'd like or expect to see, please get in touch or come back soon and make sure that we are now offering it. Please feel free to look around and please do get in touch if there's anything we can do to help.