Outlook.com is the new kid on the block as far as web mail services is concerned.  It was born out of Microsoft Hotmail which was a web mail service.  Outlook.com aims to be far more than just an email service though.  For many years, Google's Gmail has been a competitor to Hotmail and Google has been slowly and steadily adding features to make Gmail more and more compelling and leaving Hotmail behind.  Microsoft, who owned Hotmail, have now rejuvenated it significantly so that it is now a much more attractive proposition.  The look and feel of the product follows that of Windows 8.  The screen has four of the main Windows 8 options:
Outlook web mail
People
Calendar, and
SkyDrive
There are other features that you can enable if you like including Skype – the video and chat service.  Here's a very superficial comparison between the two offerings.  The big differences are the capacities are smaller in Gmail but it does have IMAP support.  They are both very big pieces of software though so we apologise in advance for the crude comparisons!
[table id=1 /]
Outlook.com Email section screenshot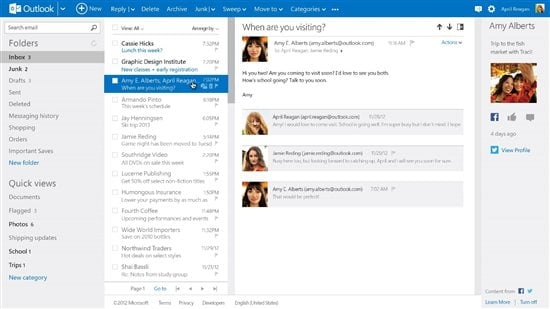 A Brief History
Normally in the IT world, companies leapfrog over one another with each new software release 'beating' the other's current version.  Outlook.com and Gmail are no exception.  It is worth looking at a bit of history here to understand better what the product really is.  Of course, like almost all software, and particularly software that is serving so many millions of subscribers around the world, it is constantly evolving.  So it is almost certain that what you read on this website will be out of date by the time you get to read it, no matter how much we try to keep it up to date!
[table id=2 /]