ISP – Support – Email – Opera
Opera email – in your browser and now standalone.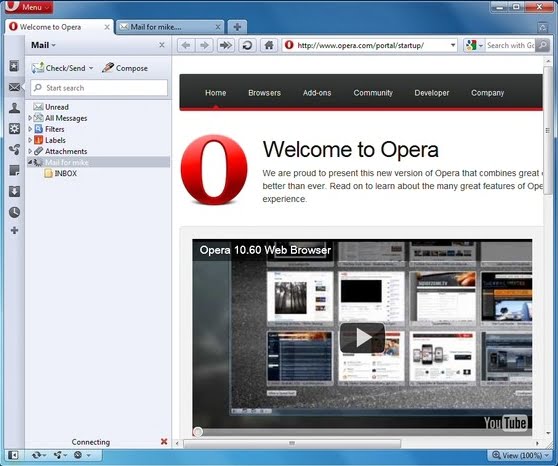 KISS – Keep It Simple Stupid
If you want a very straightforward way of accessing your email, then Opera could be your answer!  Opera is well known as a very reputable alternative web browser.  They also offer two versions of email as well however.
The older one, that is the one with the longer pedigree, is known just as Opera mail.  They have just released (June 2013) Opera Mail Portable 1.0.
This for those who want to access email on a device that hasn't got a permanent internet connection.
If you don't need calendars, or integration with an instant messenger, or the ability to handle a huge inbox, then perhaps you don't need standalone email software.  If that's the case, then you could do a lot worse than look at regular Opera mail.
Import Restrictions
The software has some limitations in terms of importing data from other email packages.  As with all such interfaces though, as long as your current email package is on the supported list, the rest don't matter!  The software supports imports from Outlook Express, Thunderbird, Eudora, Netscape Mail and any other software that uses mbox.
Feature Summary
Features include:
IMAP accounts
POP accounts
Gmail
AOL
Yahoo
Spam filter
Categorisation
Fast searching
RSS
Newsgroup reader
Opera Mail Portable 1.0
Opera Mail Portable 1.0 is the standalone version of regular Opera.  The feature list is identical except that you download the software to your device.  Again, it has a clean and uncluttered feel and is simple to use.  Whether you go for the standalone version or the webmail version will depend entirely on your preferences.  Some people prefer to have all their life stored on the web so that they don't have to worry about security or backups.  Others are the opposite.  If you live in an area of good connectivity, then webmail is far more attractive than if you live in a not-spot or a slow-spot.
To download the software, click here.
Opera Mail Settings for Net2Air

Coming soon…