eM Client
is a fully featured email package.  It's very similar, functionally, to Microsoft's Outlook.
There are two versions of eM Client: a free/home version and a  Pro version.  The free version is identical to the Pro version with three exceptions.  First, there's no support.  Secondly, you can only have two email accounts simultaneously.  Finally, you can't use it for commercial use.  In every other way, the two versions are the same.
Here are the main features:
Email

Supports SSL.
Supports encryption.
Super fast search.
Includes signatures and templates.
Supports tags.
Includes regular folders and search folders.
Includes configurable email 'rules'.
Automatic email account setup.
Translates email internally.

Calendar

Supports Calendar sharing.
Supports different Calendar views.
Synchronises with Google Calendar.
Comprehensive search in events and tasks.
Supports meeting invitations/confirmations.
Supports scheduling meetings using 'Free/Busy'.

Contacts

Customise your contact display.
Share contacts with other eM Client users.
Synchronise contacts with Gmail contacts.
Organise contacts in folders or by category.
Instant Messaging

Supports MSN, Facebook Chat, ICQ etc.
Supports multiple Instant Messaging accounts.
Import Options

Supports imports from Outlook, Outlook Express, Windows Mail, Windows Live Mail, Thunderbird.
Also supports importing events from iCalendar.
Supports importing contacts from vCard, CSV files and from Facebook.
Money, Money, Money
All the reviews agree that eM Client is fast. And so do we. It's fully featured and a very reasonable substitute for Microsoft Outlook for standalone use.
The Pro version is free for 30 days and then you have to pay.  The fee is currently it is US$49.95 for a lifetime licence.  If you want unlimited lifetime upgrades, then the fee is US$99.95 for one licence but falls quite steeply if you want more than one.
Two licences cost US$164.95 (US$84.48 each).  Three licences cost US$214.95 (US$71.65 each). And the prices fall, the more licences you buy.  So, 10 units is US$449.95 (US$45.00 each); 20 units work out at US$37.00 each, and 50 licences work out at US$30.57 each.  We think that's really good value for free lifetime enhancements and version upgrades, and certainly good value in comparison to Outlook.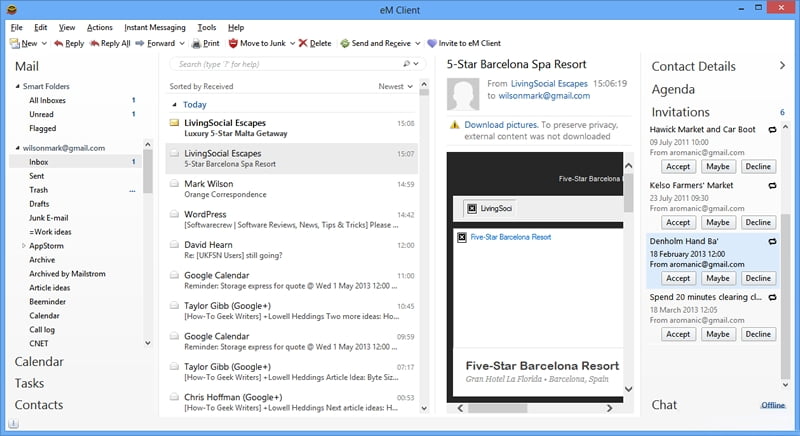 For full details, please see the eM Client website.
Limitations
While the software is good, it does have some limitations.  If you search for reviews, they almost all love the basic functionality of the software but have a few criticisms.  Here's a summary of the criticisms:
Inability to open multiple instances in eM Client – so you can't switch between windows and have to 'mouse' your way around.
Poor synching of Contacts – particularly weak between eM Client and Google applications.
Poor customisation – particularly of menus.
Can't set a default category for Contacts.
Can't modify Address Cards view.
Email views clunky – particularly switching to earlier, previously read emails.
Creating Search Folders  is a hassle.
There are some awkward keyboard mouse combinations needed.
If none of these things bothers you, then it's a great solution.  We dismissed eM Client as being too lightweight.  Instead, when you start to use it in anger, it has almost everything you need.  We think it's great!
eM Client Settings for Net2Air
Coming soon…