Office 365 – the first web version of Outlook

The latest version of Outlook is the version included in Office 365.  Office 365 is the web/cloud version of Microsoft Office.  It was originally released in June 2011 and includes all the regular modules of the conventional Office suite.  The big difference is that it is paid for by subscription rather than by buying the software outright.
The version of Outlook that is included in Office 365 at the time of writing (July 2013) is, effectively, the same as that included on the Office 2013 suite, launched in February 2013.  Unlike previous versions of Office, Outlook is included in every available version of Office 365.
If you are running a mail server and currently running Exchange Server, then, if you are contemplating switching to Office 365, you need to consider switching your Exchange Server to the Cloud – a short term stress for significant longer term de-stress!  You need to investigate Outlook Web App too which is the relevant synchronisation tool.
If you are not running an Exchange Server, then you will find the transition pretty smooth.  There are some minor niggles, mostly to do with the right hand sidebar display not combining meetings and To Do lists Pop-up alerts for incoming email etc are also missing.  The big plus though is for those who like to keep huge amounts of old email.  For them, searching is dramatically faster which is a great boon unless you want them to reduce the size of their mailbox! Unless you are a user who cares passionately about one of the missing bits of functionality, the chances are that you are going to love it!  Unusual for Microsoft who seldom seem to get things this right at the first attempt.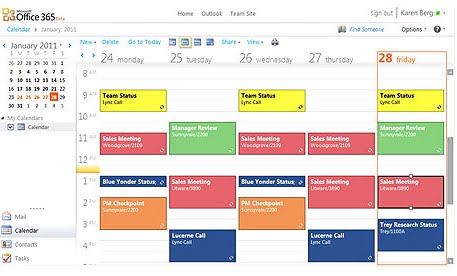 Outlook Screenshot from Office 365
To see a full review of Outlook 2013, click here.
To go to the Outlook website, click here.
Office 365 Outlook Settings for Net2Air
Coming soon…